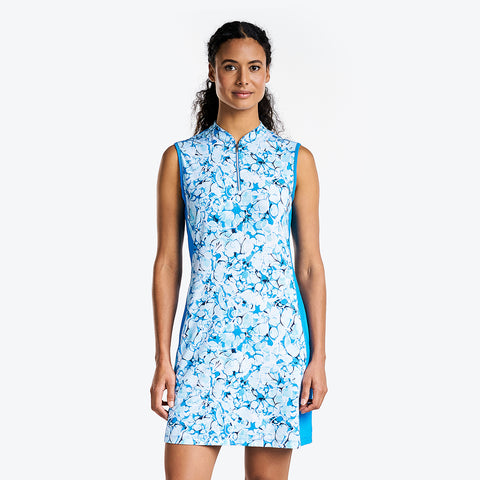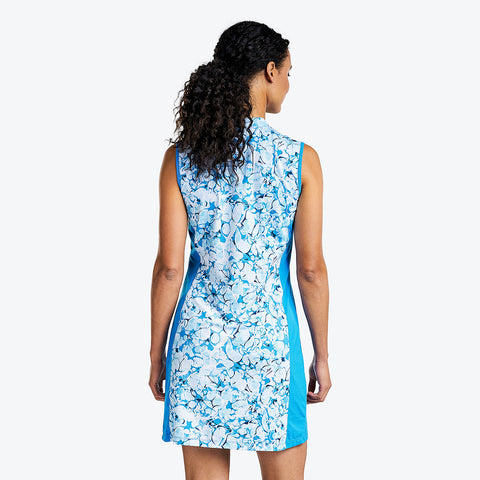 Lustine Dress French Blue
SKU: 001158643420D7
ISBN: 772380603231
The Lustine dress from NVO is a feminine and elegant golf dress that gives you freedom of movement while you're focusing on your swing. The breathable and cooling fabric regulates your body temperature and keeps your skin fresh even on hotter days. This quick-dry golf dress prevents sweat marks, so you can confidently have fun on the golf course. Get yours now!.
Knit 91% Nylon, 9% Spandex
UPF 50+
Quick-dry
Moisture wicking
Type of Closure: YKK half zip
Fit Details: Slim fit
WHY LIVCOOL ?
Discover the benefits of our Livcool collection. All our Livcool golf wear is made from nylon for strength and flexibility, with high-performance properties for comfort.
Our Livcool fabrics are specially treated to block 98% of the sun's rays, significantly reducing your risk of exposure.

Quick drying and moisture wicking 
Nylon fabric keeps your body cool thanks to its quick-drying properties: no sweat marks and better body temperature regulation. 
Nylon wicks moisture to the outside of your garment, where it evaporates more quickly. It prevents sweat from accumulating on your skin, making you more comfortable. 

Breathable fabric is perfect for sensitive skin, preventing rashes and other skin problems. By allowing air to pass through, this fabric allows your skin to breathe, feeling comfortable and fresh.

Thanks to its moisture-wicking properties, the fabric stays dry for longer. Moisture evaporates quickly, leaving you feeling refreshed. Livcool garments are made from 9% elastane. This material is water-repellent and prevents sweat from accumulating. It dries faster than "ordinary" fabrics. 

Antimicrobial and Anti-odor Fabric 
Nylon absorbs moisture and allows air to circulate more easily, preventing the build-up of perspiration and bacteria on your garment. Bacteria are responsible for unpleasant odors. Thanks to the antimicrobial and anti-odor fabric, you'll feel fresher for longer. 

Nylon is a strong, durable fabric. It resists creasing, it is lightweight, and gives you greater movement comfort and flexibility. 
Gamechanging Livcool Features
Fabric that protects you from UV rays
Protects your body from high humidity levels
Keeps you dry and comfortable
Keeps your body cool and ensures great aircirculation